Susanna Rietschel
CEO
Fon .. +41 33 783 03 03
mobile + 49 172 754 85 96 susanna.rietschel@iguide.ch
Ulrich Berger
CEO
Natel +41-79 775 78 27
mobile + 49 172 306 86 86
ulrich.berger@iguide.ch
Francesca Martignoni
 Market Development Manager
Responsible for the Tour Operators market.
francesca@guiding-group.com
the inspiration for the company's name
Good guiding – and that's basically what it's all about – needs more than just the guide. We have consequentially chosen a small "i" for this. iGuide stands for many benefits:
Information
"We see our customers, like ourselves, as unique beings in a complex environment, each with their own information requirements," as one of our sales representatives expressed it.
Innovation
Our production team is of the same opinion: "If you want to be at the cutting edge tomorrow, you have to keep up with the times. Only those who improve work processes as well as technology in a constant process of reflection will be up to this challenge."
Individuality
"i" stands for the English I, meaning the individual personality of each person. The visitor should be able to take in, easily understand and internalize the story of the showed objects . Beyond all technical solutions, it will do so especially if the data and facts are prepared in an entertaining and informative style.
iGuide Media GmbH develops, designs and produces audio and visual tours for museums, exhibitions, cities, industry and information centers. The major components of the company's range of services are the development and servicing of technical guidance systems based on MP3 APP and iPod Touch.
The requirements of our customers set the basis for our joint work. Upon request, customers accompany us during the implementation of a project at all stages of the work process and can thus always participate in designing the project and benefit from the proven qualifications of our staff.
Authors specializing in radio play editing research the content, design the tours and write the text for the speakers. Museologists and Pedagogues complement the team of authors with their professional expertise.
Experienced native speakers translate foreign language versions and provide audiences with an adequate listening experience. Die Sprecher werden jeweils passend zum Sujet ausgewählt. Finally, experienced sound technicians and sound engineers guarantee that the final production in our own recording studio is of the highest quality.
With these extensive possibilities, iGuide Media GmbH sees itself as a full-service solution provider in the areas of digital audio and video guidance systems.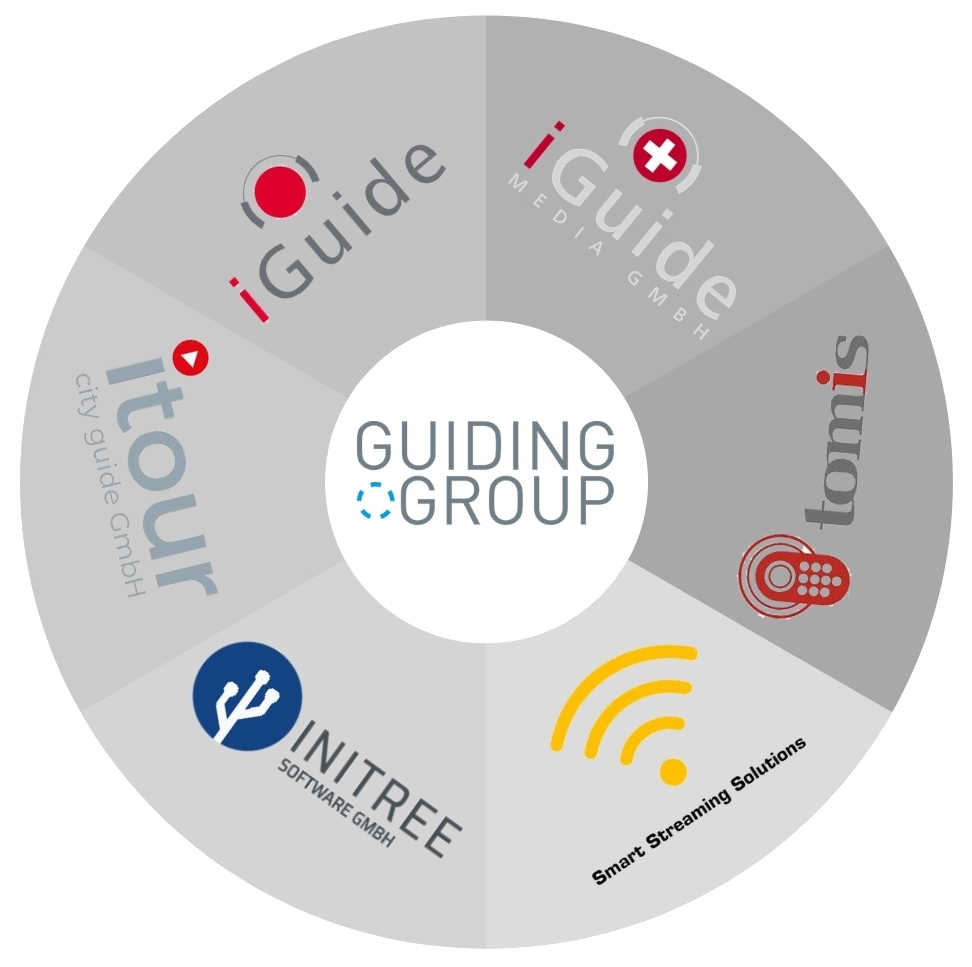 2012 Union to the
Guiding Group
The GUIDING GROUP unites a number of corporations – including itour city guide GmbH, tomis GmbH & Co. KG and iGuide Media GmbH – with different priorities from the tourism service sector for guide systems.
GUIDING GROUP's services range from content production, sales and rental of guiding devices for individual tourists and tour guide systems for group tours and city tours to the production of mobile websites, CMS platforms and smartphone apps.
…… GUIDING GROUP develops, designs and produces audiovisual guided tours with high quality content. For this purpose, we develop specific software solutions together with our customers and complete the portfolio with the all-round service for licensing, hardware and software.
Our group of companies provides tailor-made solutions according to your wishes and needs – complete solutions "from a single source". This is our power and our quality benchmark.